About
Lola Star has captured the hearts of millions with the fabulous line of merchandise that she designs, hand makes and sells at The Lola Star Souvenir Boutique on the Coney Island boardwalk, the Lola Star Surf Shop and her online boutique.  She created Dreamland Roller Rink which filled the formerly abandoned, historical landmarked Child's Building on the Coney Island Boardwalk with glittering magic from 2008-10. As founder and former director of the Save Coney Island Organization she advocates for the preservation of the historic Amusement District of Coney Island.  Lola is also a huge animal lover, vegan and helps to rescue animals in need.
In 1991 Lola dreamt her fabulous tee shirt line into existence. This dream was born out of the magical thumping techno bass of abandoned warehouse raves in Detroit where Lola first sold her glittering line of tees. The dream of creating empowering clothing brought Lola to New York City. It wasn't long before her heart soon found it's home in Coney Island. Lola opened the Lola Star Souvenir Boutique on the Boardwalk in Coney Island. 
In addition to being a designer and business owner, a wild roller-coaster ride of events has led Lola to find herself in the role of a community activist!

The integrity of the historic Amusement District in Coney Island was being threatened by a real estate developer who bought the land and planned to build luxury condos. Lola began the Save Coney Island Organization to fight against the developer's plan because she believed this would destroy Coney Island. Her role as a community activist began when she objected to a Confidentiality Clause that the developers demanded that all of their Coney Island tenants sign. She strongly objected to the developers attempt to silence the business community by preventing their tenants from speaking about the redevelopment of Coney Island. She was evicted from her store because she refused to sign this Agreement. After her eviction, she was determined to make something positive out of the heart breaking loss of my boutique, so she created the Save Coney Island Organization. Her goal was to create an Organization which would spread information about the redevelopment, give people the opportunity to discuss and express their opinions and ideas about Coney Island, and to organize events which would publicly express these convictions. Lola organized a "No Condos in Coney" demonstration at New York's City Hall. This demonstration created an extraordinarily colorful spectacle which succeeded in preventing the developers from building these luxury condos in the Amusement District. It also resulted in her getting her boutique on the Coney Island boardwalk back.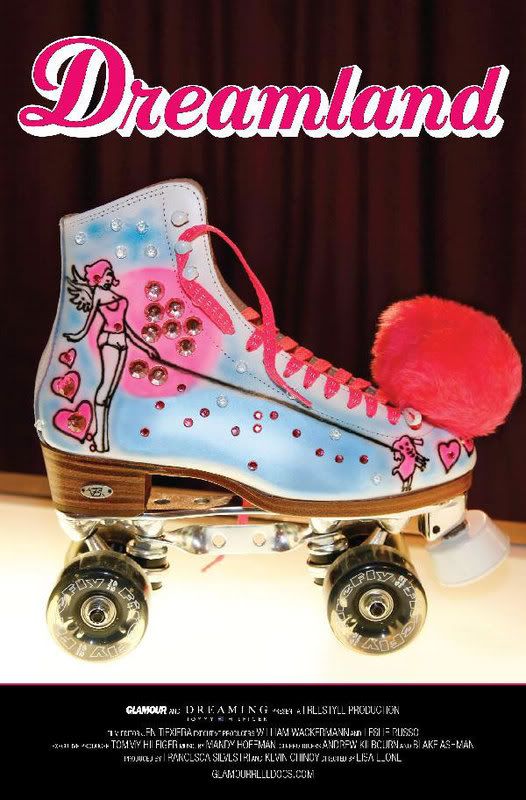 Glamour Magazine and Tommy Hilfigger were so impressed with Lola's achievements and activism that they awarded her with the opportunity bring her dream of creating a Roller Rink to fruition while they filmed a documentary movie about her experience. Lola opened the fabulous Lola Star's Dreamland Roller Rink inside the historical landmarked Childs Building on the boardwalk in Coney Island and the movie, Dreamland, was made about her life. To watch this fascinating film, just click on the movie poster above! 
Lola Star suffered a great heartbreak when the developers, once again, senselessly kicked her out of her beloved boutique on the boardwalk. They needlessly kicked her out of her shop because she refused to compromise her belief that Coney Island should be redeveloped as World Renowned Amusement Destination and not a shopping mall or the site of high rise luxury condos. 


With the resilience and determination of true Coney Island showgirl spirit, Lola Staar vowed to create a bigger and better shop after the loss of her boardwalk boutique! She relocated her shop into her Roller Rink and created the Dreamland Boutique.
Miracles DO happen when your love is pure and true!  Miraculously, Lola got her very same shop on the boardwalk BACK AGAIN after the city bought the land.  They offered Lola a lease and she was able to reopen her very same shop!
In the spring of 2010 she also opened the Lola Star Surf Boutique inside the Stilwell Ave Subway station in Coney Island. 
Lola Star is a positive, vibrant and creative contributor to the redevelopment of Coney Island. Through her Save Coney Island Organization she is helping to preserve the integrity of one of the most historically rich destinations on the planet!! Her fabulous Lola Star's Dreamland Roller Rink dazzles and amazes thousands of roller-groove seekers each summer. Customers can sense the pride, love and passion she has for the community of Coney Island and her Lola Staar Boutique,Lola Star's Dreamland Roller Rink, the Lola Staar line of products which she designs and the the Save Coney Island Organization.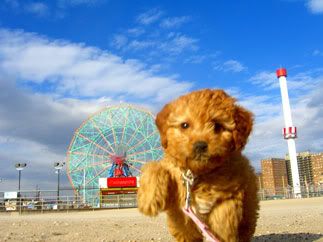 P.S. None of this would have been possible without the love of Lola Star's adorable doggie sidekick, Shimmer Star!!